Stay Connected on the go!

Monarch2Go gives you one tap access to your Monarch Library
Connect to your local Monarch Library whenever and wherever you are to read, listen, learn, enjoy!
Use our free app to:
• Store your library card
• Search the Monarch Catalog
• Manage your library account
• Request items, place holds, and renew materials
• Find your local Monarch Library
• And more!
Use it to access digital services:
• eBooks, audiobooks, digital magazines
• Online classes
• Language learning software
• Licensed trustworthy online content
• Educational resources
Download the Monarch2Go App today!
Never lose your card!
Store your library card in the app. Pull up the app during check out and the library can scan the barcode on your phone. Easily manage cards for the whole family in the app. Multiple cards can be stored…just swipe to the card you need!
Search Monarch Catalog
Wherever you are, you can open the app and place holds for items while you are on the go!
Easy access to digital resources
Whether you are in search of a "just one more chapter" ebook or audiobook, the latest full color edition of your favorite magazine, online classes for amping up your skills or something you've always wanted to learn (even a second language) or are in need of trustworthy information and research sources for school and home…you'll find it all in Monarch's digital resources!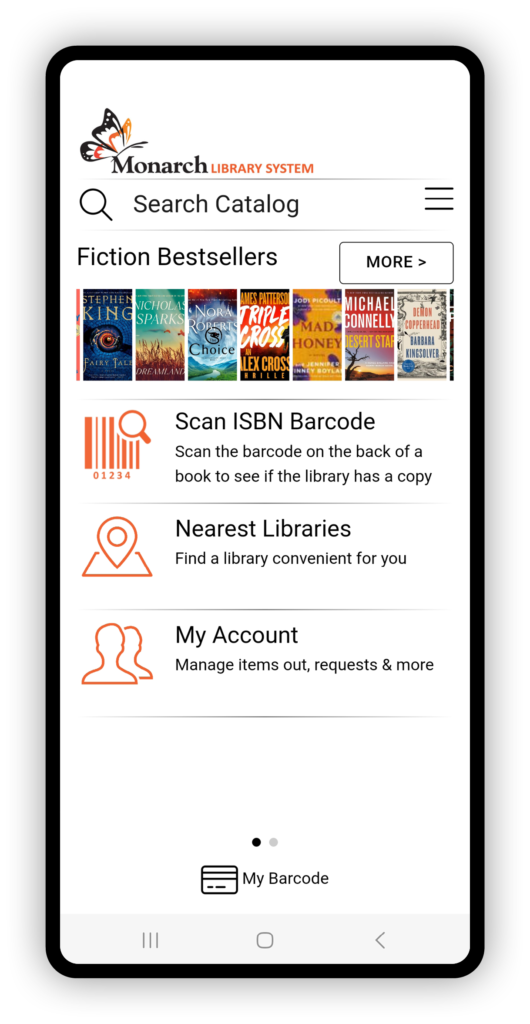 Scan before you buy
Hmm…I wonder if I can get this at the library? Now you can find out! Scan ISBN barcodes to see if the item is available in Monarch Catalog. Place a hold on the item and have it delivered to the Monarch library of your choice.
Quickly manage your account
Renew checked-out items (if eligible) to avoid late items. No one likes to have late items in their account!
Monarch Libraries like visitors!
While you are on the road, use the app to find your nearest Monarch library location. As a bonus, distance in miles and library hours are also included in the listing, so if the nearest location isn't open, drive to the next. You are welcome at all of our 32 locations!