Since 1979 we have been bringing the library almost to your doorstep, rain or shine, for you to enjoy books, movies, music and more as part of a tradition we are proud to continue, that of the BOOKMOBILES across the nation still serving non-libraried communities. Proudly serving the Ozaukee & Sheboygan counties, the BOOKMOBILE is your source of materials, reference services, and outreach resources available to you and your community completely for free. The BOOKMOBILE has a rich schedule of convenient stops for you to access all the resources offered by the Monarch Library System participating libraries. These stops include different spots located in these towns:
BELGIUM – FRANKLIN – GIBBSVILLE – HINGHAM – WALDO – WAUBEKA
As well as periodic stops in the towns of: MOSEL, MITCHELL, PLYMOUTH, SAUKVILLE, SHEBOYGAN, SHEBOGAN FALLS, and WILSON. Check for a full listing of scheduled stops near you!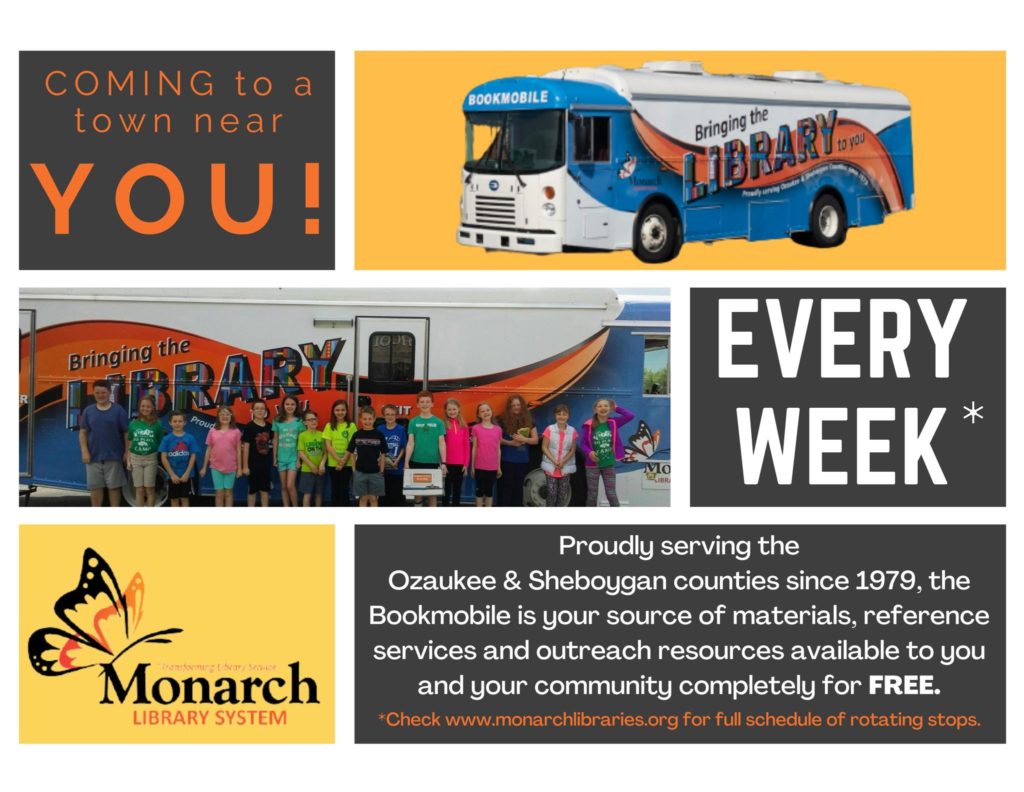 Contact Info
920-208-4900 ext. 315
Click here to email Bookmobile Staff
Services
Readers Advisory Services
We will have a stack of recommendations waiting for you every two weeks! Simply tell us:
• That topics you enjoy
• How many items you would like
• The type of material you prefer: Books, Large Print, DVD, Audio CD Book, Magazines
• The Bookmobile stop you visit
ILL (Interlibrary Loans): We can get you any materials available through the MONARCH LIBRARY SYSTEM or throughout the state thanks to WISCAT(Wisconsin Catalog).
Reference Desk Services: Got a question? Whether you are trying to find the address to a cemetery, the phone number for "that restaurant", the Packers score for a game back in 1967, or any other question you don't know who to ask, check with us and we'll get you an answer.
Resources for Students' Research: From collections of unit materials including biographies, books on specific subjects, as well as multiple copies of a title, we can offer you and your students at home or at school a vast amount of resources throughout the whole school year and beyond.
Outreach Programming: Want to bring storytime for adults at your assisted living facility? What about a memory café? Have an idea for a specific program we could help you with? Simply contact us to see how we can help you.
Staff
Lisa Haartman
Position: Bookmobile Manager
Phone: 920-208-4900 Ext 315
Naomi Mason
Position: Bookmobile Staff
Phone: 920-208-4900 Ext 315
LuAnn Walcott
Position: Bookmobile Staff
Phone: 920-208-4900 Ext 315